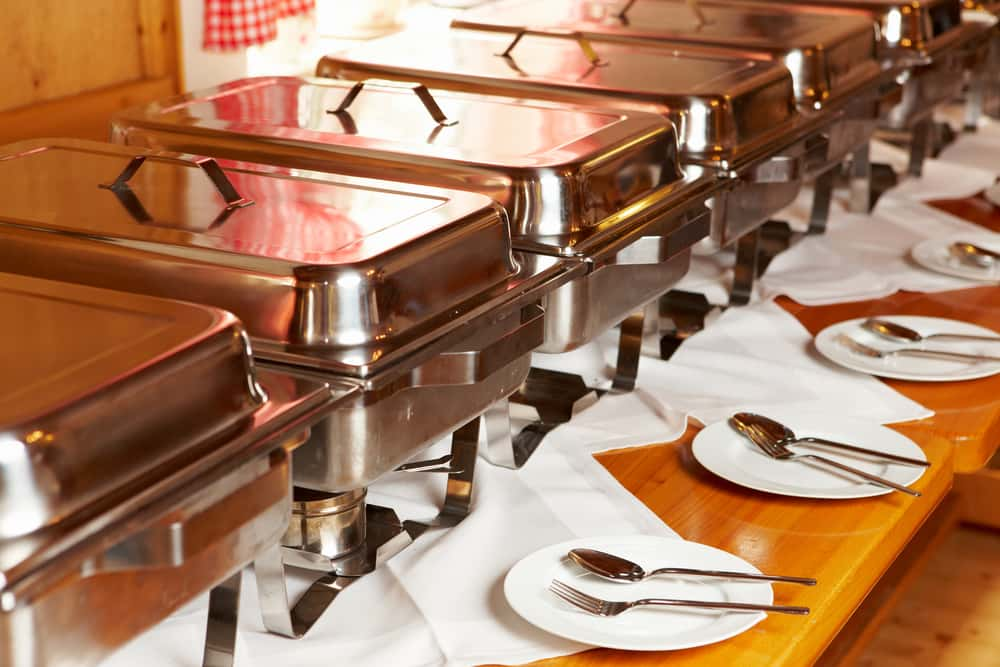 Catering
Beside three amazing menus to choose from Werner's Catering offers three dinner styles to choose from.
Buffet Style
The buffet style of serving meals is when food is placed on the serving tables where the guests generally serve themselves. Buffets are a popular style since it is effective for serving large numbers of people at once. Our staff will maintain the service table keeping the food fresh and plentiful.

Family Style Service
The family-style meal service provides a comfortable and relaxing atmosphere. Just like at home, with this type of service each table will be served with large platters and bowls for guests to help themselves to the desired amount. This service style will allow our staff to serve all your guests at one time, keeping it on your schedule and giving your guests the luxury of not having to stand in line at a buffet.

Seated Plated Dinner
The most traditional type of dinner for a wedding reception is the seated or sit-down dinner. This is the most similar to what you would experience in an elegant restaurant with the menu selection that you have chosen. This meal service our staff will deliver every plate to yours guests individually.
Additional Catering Services may include:
Werner's Ice Cream Bar

Werner's Bar Service
Starbucks Coffee
Finger Foods
Chicken Diablo Wrapped in Bacon Scallops Wrapped in Bacon
Bacon Wrapped Chicken Livers
Crab Stuffed Mushrooms
Crab Stuffed Jalapenos
Mini Crab Cakes
Fried Mushrooms
Cream Cheese Jalapenos
Sautéed Oysters
Boiled Shrimp
Garlic Chicken Kabob
Beef Tenderloin Kabob
Egg Rolls
Swedish Meatballs
Buffalo Wings Chicken Quesadillas
Steak Quesadillas
Roast Beef on Croissant
Mozzarella Sticks
Meat Tray
Vegetable Tray
Fruit Tray
Assorted Quiche Spinach Dip
Chorizo Con Queso
Chips and Salsa
Corned Beef Cream Cheese Dip